Here are a few quotes and sayings and some funny things that Gerling have said. I have collected from articles,Big Day Out videos and from when I actually met them...
Enjoy!
" He doesn't say aquarium pussy face or anything" - Darren
"It's a love triangle" - Presser
"Who likes Queen? We hate em', so get fucked" - Gerling
"I look up, and there's my Mum!" - Darren
" ah...Does anyone know how to fix the stage problem? Stage problem fixers, I think a cord has popped out of this, and I don't know how to fix it!...Thanks for your quick assistance!" -Burke
"There gravy coloured" - Presser
" Setting fire to ourselves...." - Presser
" Having sex in Geminies.." - Darren
" You guys are all fucked! We have lost so much money, fuck off! this song's called 'Jimmy Wah' get fucked you fucking lesos! - gerling
"You wanna make a fucking phone call?!" -Presser
"Pig tits, clown porn..." - Burke
" Everyone say 'Fuck You'" - Darren
" You certainly keep us off the streets, don't you? "
" Hands up, Who wants to dance on stage?? " -Burke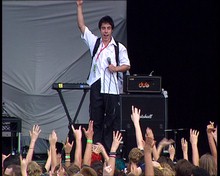 " Hello Sydney...Let's get fucked up!"
" We're fucking up!"