*yawns*
HEY did anyone attend the gig at the Albury Convention Centre on Saturday?? (Saturday 30th Nov that is) if not oh my God you missed out hard. Well I went and as always, Gerling went off =) Im just trying to think what songs the played...let me think for a sec...
okay.. first off, I think it was Phazer Kids In The Windy City, High Jackers Manual, Enter Space Capsule (radio disko mix) Ghost Patrol, and 2 other songs I have never heard before, something like 'Come on Girls' and some song about going to the drug store..goes like ...'Hey signorita take me to the drug store;' something along those lines, im probably wrong.
Lets see..... A big crowd turned up no offence but they were mainly 12 yr olds or a bit older, all wearing mini denim skirts and tight see through tops (can people actually get away with wearing someting like that) There is a word for it but I'll probably end up getting all this hate mail haha so I wont bother.
OH YEAH.... there were 4 gerling fans who came down from Canberra and they went fucken sick! They were like the craziest bunch of Gerling fans Ive ever met, they fully ruled, they even made their own Gerling T-shirts (plus they all had cool hair too)
I know what I just wrote had nothing to do with anything, I just thought id give a shout and say hi, look at for them Im sure they will be at Gerling's next gig. (YOU GUYS ROCK!)
This is for Dazzzaaa - If you havent already read what i wrote in the Official Gerling guestbook, Im sorry about the camera flash =) oh yeah, I was mondo impressed that you remembered my name straight off the top of your head :P (hello Mr Spunky!)
umm...Il write some more about the performance..
Burke on drums - fucken unbelieveable, he fully went nuts, so good job there.
Presser your a nut, in a good way hehe. During one of the songs he was just looking up, staring into oblivion, he was so still..i guess he looked like one of those mime people. *crazy*
If you havent already done so, I suggest you get your but over to the offoicial Gerling site, it looks great, and sign the guestbook too, im sure the lads would love to hear from ya's. (WwW.gErLiNg.NeT.aU)
And buy their merchandise !!!!!!!!!!!!!! they have a new range of hoodies, visors, and t-shirts, Oh and they are also selling some of the rarer singles eg. Death To The Apple Gerls. I assume stock will be low, so get in fast!!!
Well...il write more when im sober
*~PeAcE~* - Erika
One Last Thing - Gerling let a fan up on stage and let him play synths - he did really well, it was a nice personal touch gerling
Yep, I admit Ive been real slack in updating the site, Ive just had other commitments, but il start updating now :P
*Righto. Forgive me guys for bein' a lil' on the lazy side for updates to this site. But knowing me, I'm kinda busy. So sorry for that. First off, a VERY big thank-you, to all the people who have sent me many emails, on how to improve the site. I really appreciate it, and love to get back positive feedback, so thanks guys, you're great, luv ya's all :).Another big thank you is going out to Adam Gerling (hehe gErLiNg's manager.)For taking the time to speak to me, and reply to my emails.
Well me, Im doin just great. Abit quiet on the gErLiNg front, but I hear, *hint hint* that the lads are playing a few tunes at the Sydney Powerhouse Museum(shit, did I spell that right? don't think I did.grr) on the 11th Of January, wow, that's so like this Friday! I'm takin a nice slow steady bus to Sydney, from Melbourne to see these fine young lads. So if ya can, get along, show your support, what I have heard it starts around 8pm, and get this..ALL AGES! just what we have been waiting for eh? well for some anyway. God, I hear alot of things huh? and I tend to ramble on too, so I'l be quiet and get started on updating the site.*
GERLING ROCK THE POWERHOUSE!
Yes, yes I did see Gerling. And they went off! Lash (take them away!) were on stage first. And I will admit they are pretty good for a chick band, not my bag though. But still, the crowd got into it (especially those six people who weren't afraid to bust some moves hardy ha ha) When Gerling were setting up, I had a bit of a chat to Darren, apparently he giggles alot, hehe. The crowd rushed forward, and the front row (where I was hehe) just got crushed. Belting out their phat beats, and showing their stuff, the evening was fully enjoyed. The extended version of Ghost Patrol, was greatly recieved, and Dust Me Selecta certainly got the crowd into a bit of a miny mosh. I got heaps of hugs of Burke :) and Paul with no shirt on was certainly a site not to be missed. Gerling you have done it again, its clear you love what you do, because you do it well. And for everyone sending me emails, sayin we want more photos, well I'm searching the Net, and I have over 30 photos, which will be up shortly.Patience petals, patience...

P.s, I nearly forgot, I was thinking of making a Gerling mailing list, or dicussion list thingy, so for more info, don't be shy, drop me a line!
You know my email, sinister_vampire@hotmail.com or jump on MSN messenger, add me to yer list, I'd love to speak to you, my addy is somewhere down there .....here we go again!

Ahh, Welcome! This page is dedicated to my favorite band of all time, and who I believe is the best band on this Earth, who else but the wonderful band Gerling! My name Is Erika Findley. If you have MSN messenger, my name is sinister_vampire@hotmail.com If you are a fan of this wonderful backpacked, school shirt wearing trio, then your a smart person indeedie! Please read on, flip through the pages and enjoy your stay! The day I met Gerling, was certainly the happiest day of my life,they were the sweetest bunch of guys, and when I left I had tears in my eyes, I love them to death, and I have finally met my idols.
You guys are my heroes!

Intro:
Gerling formed about seven years ago in Sydney. Back then, the band consisted of three members. Who were:
Darren James Spielberg-cross
Paul Anthony Towner (aka Presser)
Bradley D Heardson

Times were pretty tough back then, Gerling played in half empty beer barns to make a living in Sydney's western suburbs. Gerling released two albums, 'Sedatives for dead radars' and 'A day of research' which I assume sold quite well. Then, Brad decided to leave the band after a few years, it is said that he moved to Tasmainia to become a tree doctor (way to go!)
Gerling, short a band member, were in need of another guitarist, they met up with Ben Lee. Who has been quite successful in the Australian music indusrtry. But somehow Ben only lasted three gigs, I assume he left, to go on with his own career.
Then one fine day, during 1997(I think) a person joined the band, a person who would change peoples perspective on Gerling's music, someone who has such flare, style, talent,and moves to boot! This fine creature's name is Burke Tyler Reid.
Burke originally was an exchange student from Canada, but now he lives here in oz!
He is pictured below...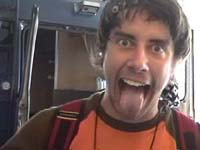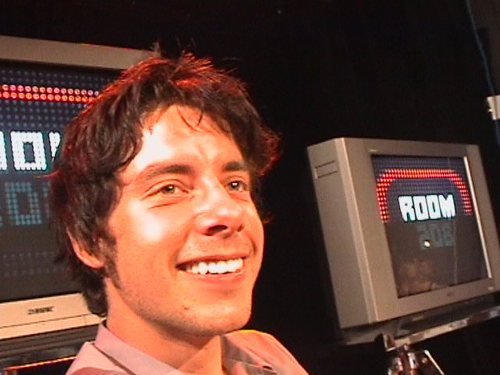 Burke's home flag! dunno why I added it, just felt like it I guess! :)

Space Capsule

View My Guestbook
Sign My Guestbook